How HyperTrader Modeled Its Way to Success in the Volatile Cryptocurrency Markets
Enable data-driven decisions

Model a new revenue strategy

Successfully raise $1.55M seed
"With startups, nothing works out like you think it will!" Amar Gautam laughed heartily as he recalled the early days of his fintech startup, HyperTrader. "You plan one thing, but sometimes you have to go back to the drawing board and you become something better."
Amar has two traits that are common in veteran founders who have been in the trenches many times - confidence and humility.
When Amar and his co-founders started HyperTrader in 2018, they planned to bootstrap the company until they generated enough revenue to raise a Series A. While their product development schedule proved accurate, their early customer acquisition rate was well below their plan.
A year after launching, HyperTrader was generating a buzz and the team was hearing great feedback, but the capital was getting tight. To make matters worse, ongoing changes in the cryptocurrency markets had made some of their product features obsolete before they could be monetized. Amar and his co-founders needed to overhaul their revenue velocity. They needed to pivot.
Finding the Right Tool for the Job
With several startups already under his belt, Amar recognized right away that HyperTrader needed to build a financial model. As he reconsidered his revenue strategies, Amar faced a lot of questions about how that side of the business should be structured, and he knew that a model would help guide the founding team through those decisions. As he put it, "We knew what we wanted out of a model. We just didn't know how to get it."
"I worked over 11 years on Wall Street, and my co-founder worked there as well. We're experts in trading and product design and APIs - but not in financial modeling."
Like many startups, HyperTrader built its first model in a spreadsheet. The result is a story we've heard all too often: "It was literally a hack job. We just searched how to create a model in an Excel spreadsheet, and then we tried to do it."
Did that first model provide the decision-making support HyperTrader needed?
Unfortunately, it did not. Amar shared his perspective on how it worked: "That first model became an overhead. Instead of guiding and enabling our decisions, it actually became a blocker."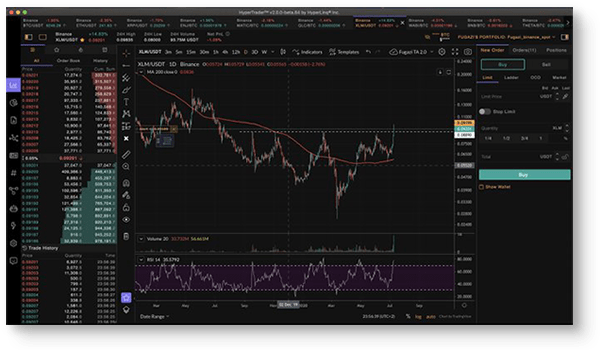 HyperTrader's cryptocurrency terminal
Community Connections
When Amar started his search for a financial modeling partner, he wasn't sure if he would find a SaaS service that was designed to fit his needs. He had worked with some other modeling tools, but they were primarily designed for fundraising and weren't robust enough for operational decision-making. In the end, the solution he was looking for came to his doorstep through an existing partnership.
Founder Profile
Amar Gautam

Home: Austin, TX
Startups Founded: 4
Background: Trading APIs
HyperTrader's founders had worked with Gust from the beginning to take care of their incorporation documents and other required filings. As the company grew, it continued to lean on Gust to manage its equity and to keep its legal and administrative costs to a minimum. It was through their partnership with Gust that HyperTrader learned about Forecastr.
When Amar was introduced to Forecastr, it was the first time he'd seen a dedicated tool designed just for building startup financial models. "It looked exactly like what we needed. I signed up for the waitlist, Logan reached out, and we connected right away. That's how it started. We became a customer within a few days."
Driving Decisions with Data
After completing the onboarding process, HyperTrader embraced Forecastr as the company's primary financial decision-making tool. "We use Forecastr for budgeting and forecasting, but more importantly, we use it as a tool to enable decisions," Amar shared. "Questions like, 'Can I have $50,000 a month for marketing?', and 'Can I hire five more engineers?', those questions are being answered now."
Because the company's financials are projected for every month, Forecastr allows HyperTrader to analyze each of these decisions in-depth in real time. "If I hire those engineers, how should I spread them out to preserve my runway? If I spend that money on marketing, how will that impact my timeline for fundraising? It's really, really helpful from an operational perspective."
After sorting out some of the big questions the founding team had regarding their pivot, they relaunched with an updated product that started to generate revenue almost immediately. Within a few months, the company was covering its expenses and achieved default alive status. At this time, Amar and his team agreed that HyperTrader was well-positioned for growth and the timing was right to raise a seed round.
"I don't go to QuickBooks for answers. I go to Forecastr."

- Amar Gautam
Co-founder & CEO
HyperTrader
Raising Capital with a Model
When HyperTrader hit the fundraising trail, its financial model became critical. According to Amar, "Forecastr was very important in our fundraising. I didn't share it in the first meeting, but when an investor was starting to show interest in writing us a check, that's when I would walk them through the model."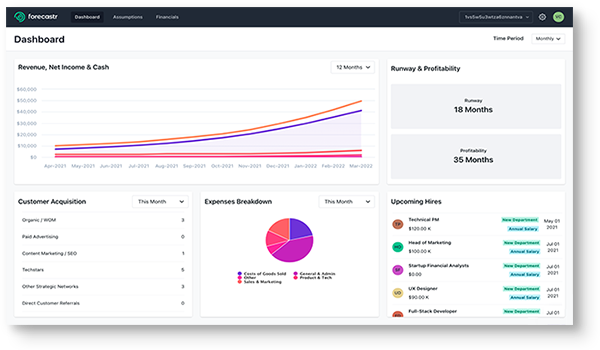 Forecastr's financial modeling platform
"'If we gave you this money, what would you do with it?' That's a very typical investor question. We were able to objectively answer that question, and many others. This percentage is going to hiring, marketing, etc. Here is our growth trajectory and our acquisition projections. We came out really professional, and they were super impressed."
Determining how much funding to raise was another task where HyperTrader leaned on its financial model. Amar explained, "Before our pivot, we did not spend money on marketing. So we didn't know how much money we would spend over the next 18 months to acquire new customers. We built a marketing budget into our model and used that to drive our customer acquisition projections."
Investors actively engaged with HyperTrader's financial model, and many of them asked for online access to dig further into the model on their own time. According to Amar, "Almost all of the investors who wrote us a check came back with valuable feedback and questions based on our financial model."
Overall, the fundraising effort was a big success, resulting in $1.55M in new growth capital.
People Are the Difference
Today, Amar uses his financial model more than ever. "In the cryptocurrency trading market, growth is cyclic. We're constantly monitoring our targets and refining projections. I log into Forecastr every week."
HyperTrader uses its model to plan runway, growth strategies, and fundraising. But Amar believes the most important benefit comes from the people, not the software.
"I'm really happy with the team and the value they provide. Our analyst, Alex, is an amazing dude. We give him problems, and he just solves them for us. I think that is Forecastr's biggest competitive advantage. Anyone can build software. But not all of them are Logan, Steven, and Alex - they are the difference. I think we made the right call in partnering with Forecastr because we didn't partner with a platform, we partnered with the people behind the platform."
"We didn't partner with a platform. We partnered with the people behind the platform."

- Amar Gautam
Co-founder & CEO
HyperTrader