How Local Sports Network
Used Forecastr To Change
Revenue Models on the Run

Pivot to a different
revenue model

Confidence and
clarity with investors

Partner with financial
planning experts
Dustin D. McMahon is a veteran founder who is truly comfortable in the pocket. His startup Local Sports Network is bringing people closer together through sports - specifically high school sports. LSN provides live streaming services, social networking tools, and fan apparel to high school fans and their local communities.
This isn't Dustin's first startup, and it didn't take him long to find his stride. LSN has already been welcomed by top accelerators including Techstars, DivInc, and Comcast NBCUniversal SportsTech. The company has been awarded contracts from several large school districts including Houston ISD, the 7th largest in the nation.
When you talk to Dustin, it's easy to see why so many people are betting on his team. LSN embraces a customer-first culture with a strong emphasis on systems, accountability, and ownership.
But in business, as in football, change is a constant. The founding team had to overcome several challenges to earn their accolades. Perhaps the biggest was an early pivot which required Dustin and his co-founder to entirely overhaul their revenue model. That's where Forecastr comes into the story.
Pivoting to a New Revenue Model
LSN started out with a subscription-based revenue model. However, as the team started to gather feedback from users and mentors, they soon realized that an advertising model would position them for a better outcome in the long run. The only problem was that no one on the team had experience managing an ads-based revenue model. As Dustin put it, "Our entire revenue model changed and fundamentally the two are very different. I didn't have any best practices for how to model this other type of business scenario."
Dustin knew he needed a financial model to document the plan for the new strategy, but he wasn't looking forward to building that model in a spreadsheet. "It's a headache to build a financial model in Excel," Dustin shared. "So, to build an entirely new one for a revenue model that I didn't feel comfortable with, it just wasn't something that I wanted to do."
He found a solution through an accelerator. "I was in Techstars, and they brought in Steven Plappert from Forecastr to run the financial modeling section. That was the first time I saw that there are helpful alternatives out there."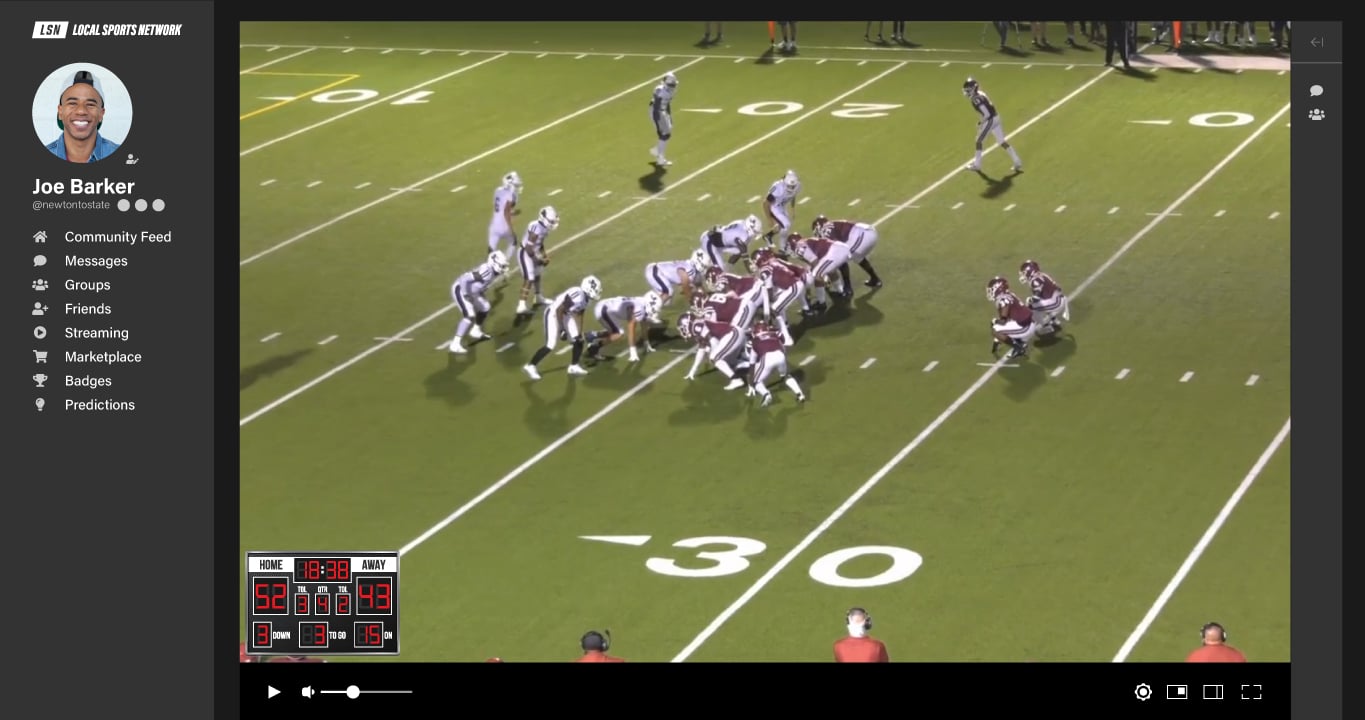 LSN's streaming interface
Dustin decided to give it a try, and by the end of Forecastr's 30-day onboarding process, LSN had a defensible model that could guide critical decisions and help investors see Dustin's vision for the new ads-based strategy.
Personal Connections Create Success
"There's a perception that folks who specialize in finance might be difficult to interact with or relate to. That is an assumption that I have not found to be true at Forecastr," says Dustin. "The culture comes across in everybody I've worked with. They've done a really good job of translating numbers into words, back and forth. Having the people, in addition to the tool, has been really helpful for me."
Founder Profile
Dustin D. McMahon

Home: East TX
Startups Founded: 3
Background: Investment Funds
Forecastr's analysts were able to guide LSN's assumptions using industry averages and benchmarks, while Dustin provided the business-specific insight to make the model fit LSN's financial reality. Dustin explained, "What is the average cost per click? What is the average cost per impression? Working with Forecastr was very helpful because they were able to say, 'This is what we typically see as a starting point for this type of model.' They provided a template for the model we were pursuing as a company that, otherwise, we would have had to figure out the hard way."
"Interestingly enough, one of the things you're expected to be as a startup founder is an expert on revenue models. And we're not. But we're taught to find people who know a lot more than us in specific parts of the business and work with those people. I think working with Forecastr on the financial modeling side has been an opportunity for us to experience that."
In the end, LSN got a fully-customized financial model that they were able to put into practice right away. Dustin and his team also feel that they've been set up for long-term success. As he put it, "The model was built in such a way that if we ever decide to add other revenue models, it will be very easy to do that with Forecastr."
Since adopting its new revenue model Local Sports Network has continued to charge ahead, expanding its reach to more and bigger school districts in every region of the country. As Dustin looks forward to the company's future, he believes the Forecastr financial model will play a key role in future fundraising efforts.
"One of my core responsibilities is to have a crystal clear vision of how much we need to raise, and when. The model gives me that. It makes it easier for me to raise money because I know how much, I know when, and I can articulate all of that to stakeholders and potential investors in a way that they can get behind," said Dustin.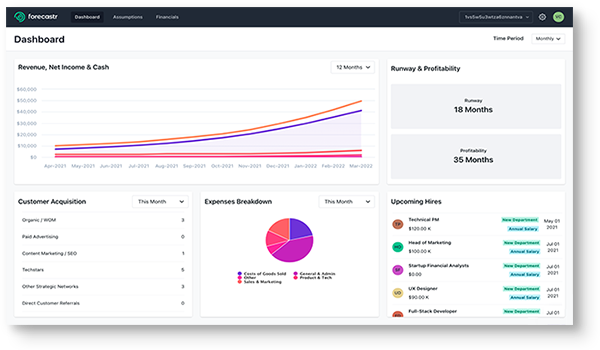 Forecastr's financial modeling platform
"We have a defensible, high-quality model. It's easy to use and visually appealing to third parties. I'm able to share a vision for the company and how we will deploy resources to drive growth. That's really fundamental at our stage."
"Forecastr is an opportunity to have financial modeling expertise inside your business."

- Dustin D. McMahon
Co-founder & CEO
Local Sports Network