How Science On Call Used a
Financial Model To Find
Stability in a Volatile Market

Upgrade an existing
financial model

Raise a $1.1M
pre-seed SAFE

Collaborate with other
decision makers
You never know what tomorrow will bring. It's as true in business as it is in life, and no founders have learned this lesson better than Luisa Castellanos and her co-founders at Science On Call in Chicago. They launched a new service for restaurants in January 2020, about three months before Illinois prohibited all indoor dining in March.

Science on Call provides tech support to restaurants. In January, the founders felt that the timing of their launch was ideal. Many restaurant owners were overwhelmed. Their networks had become increasingly complex as they moved from simple credit card terminals to a range of point-of-sale solutions, online ordering systems, delivery services, loyalty programs, and more. Providing a single point of contact for all of their technical issues was a great value proposition.
Then, in March, the pandemic brought everything to an abrupt halt. With some of their customer base closing up shop and others looking for any opportunity to cut costs, the founding team knew that they needed to take swift action.
Adopting a Financial Model
Luisa had completed a financial modeling workshop, and she used those skills to create a spreadsheet financial model for Science On Call. That model served the company well during its crisis. It allowed the team to plan their runway with a much slower rate of growth, delayed hiring plans, and many other changes.
While that first model was helpful, it also left a lot to be desired. As Luisa put it, "We had some trouble as a team taking ownership of that model, managing the assumptions, and using it regularly as a reference. We were also experimenting with new customer acquisition strategies, and I just didn't have enough of a background to implement them in the Excel spreadsheet."
With their industry changing constantly and a pre-seed raise on the horizon, Luisa needed to level up Science's financial model. The opportunity to upgrade emerged when Science On Call was accepted into the 2021 class of the Techstars Farm to Fork accelerator.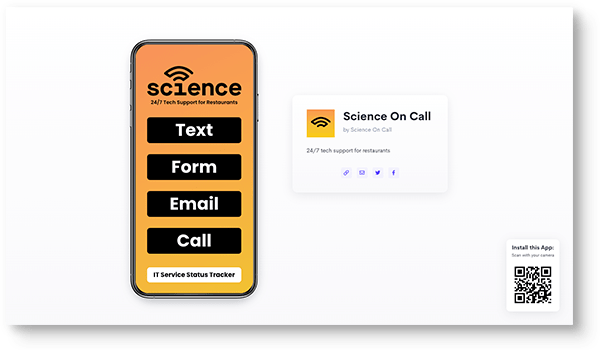 Science On Call's app download
Taking It to the Next Level
During the Farm to Fork program, Luisa attended a workshop with Forecastr CEO Steven Plappert. She recognized that Forecastr would not only allow her to test customer acquisition strategies but could also help get her whole team to actively participate in the model.
Founder Profile
Luisa Castellanos

Home: Chicago, IL
Startups Founded: 3
Background: Marketing, Art
In Luisa's words, "It seemed like a great way for our team to collaborate and visualize the business together. Just the simplicity of being able to access it and make updates on an ongoing basis, and add new scenarios when you're considering big changes. It's a really easy way to do that."
After implementing Forecastr, the team at Science On Call embraced the ability to easily track their cash flow, balance sheet, and income statement over time. "The team members found it really simple to use," said Luisa.
And it didn't take long for the team at Science to find other uses for the model. Luisa explained, "The modeled hires tool has been really helpful for us. We're growing pretty quickly and we use it to figure out appropriate salaries and make sure we're hiring at the right time. Our new process is much cleaner."
Personal Support Powers Success
Science On Call leaned on Forecastr's financial analysts to help resolve their customer acquisition planning, along with a few more challenging tasks. In Luisa's words, "The team at Forecastr is very hands-on. They're very knowledgeable about how to create the right inputs and outputs that a founder might not know."
Before switching to Forecastr, Luisa had felt constrained by the limits of her spreadsheet model. Some aspects of Science On Call's business didn't neatly fit the template they were using. But Forecastr's analysts helped Science build a model that was custom-tailored to their reality. "They were able to help us build something unique," said Luisa.
She continued, "We also switched our bookkeeping system around the same time as we started with Forecastr, which was a little bit complicated. The team at Forecastr was really helpful in that transition. They helped us import all our historicals and identify which expenses should go in which categories. They made the process a lot simpler."
"Forecastr is a great way for our team to collaborate and visualize the business together."

- Luisa Castellanos
Co-founder & COO
Science On Call
Raising Capital for Continued Growth
In February 2022, Science On Call closed its biggest round of funding to date with a $1.1M SAFE. Luisa said that the Forecastr model played a big role in closing the round. "We were originally going to do a priced round, but it was taking too long to find the lead, so we raised on a SAFE. Forecastr helped us make that change," said Luisa.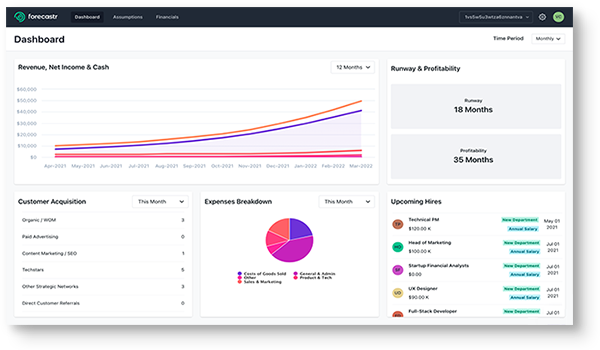 Forecastr's financial modeling platform
"We needed to figure out how much to raise, and we needed to show what we were spending the money on, and how that would affect the growth of the company. It was really important to be able to share our model with the investors, and Forecastr made it easy to walk them through it."
Science On Call closed their round sooner than expected and immediately started hiring for support and sales. As Luisa explained, "With Forecastr, we were able to get the money sooner and then update the model to reflect that and move the dates up to see when we could start building and hiring."
"I think Forecastr will appeal to a lot of founders who have tried to build a model with a template. Every business is so unique and there just isn't a template that fits everybody. The team at Forecastr was able to help us build something unique."

- Luisa Castellanos
Co-founder & COO
Science On Call